The European Union's ministers agreed on reaching a target of at least 20% of students that spend some part of their studies or training abroad by 2020. "Mobility for learning purposes" includes the outbound flux from the home country in order to study or undertake training, considering that support for mobility is a main aspect of Erasmus +, the EU program for education and training.
The European Commission recently released the "Education and Training Monitor 2015" where we can see that, on average, 7.5% of the EU's student population is mobile (in 2005 the figure was 6.4%), representing today over 1.4 million students.
In Portugal, the number of foreign students has not stopped growing, as shown in the chart below. Over the past five years, the total of non-national students enrolled in higher education institutions, public and private, rose from 19,4 thousand (2009/2010) to around 31 thousand (2012/2013). In our country, students of foreign nationality come mainly from Angola, Brazil, Cape Verde, Spain and Italy.
The increasing academic mobility is largely due to the implementation of the Bologna Process, in particular the profound changes that facilitated periods of study or training abroad (3 cycle structure and developments concerning security quality).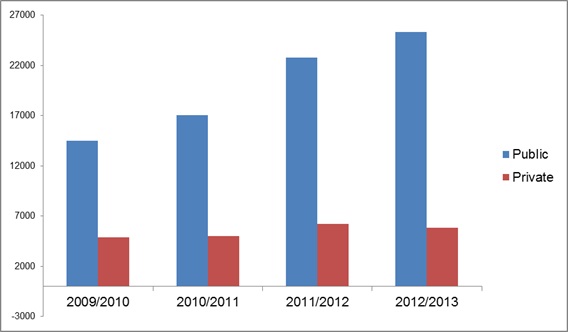 Source: Direção-Geral de Estatísticas da Educação e Ciência